Roll-up banners, also known as pull-up banners or pop-up banners, are designed to be easily set up and taken down. They typically consist of a printed graphic panel that rolls up into a base unit for storage and transportation. The base unit usually includes a mechanism that allows the banner to be pulled up and secured in place for display.
Roll Up Banner Printing Dubai
Roll-up banner printing is a popular service provided by printing companies. It involves the production of portable and retractable banners that are commonly used for trade shows, exhibitions, events, and retail displays.
When it comes to roll-up banner printing, printing companies use high-quality materials and printing techniques to ensure vibrant and durable graphics. The artwork or design provided by the client is printed onto a sturdy vinyl or fabric material using digital printing technology, which offers excellent color reproduction and sharpness.
The size and specifications of roll-up banners can vary, but they typically come in standard sizes like 85cm x 200cm or 100cm x 200cm. Some printing companies may also offer custom sizes based on the client's requirements.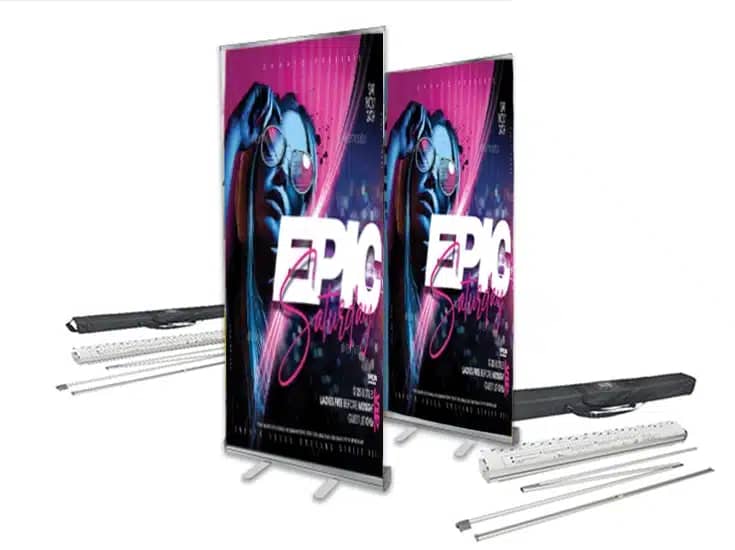 Roll Up Banner The portable Advertisement Technique
Roll-up banners are a highly effective portable advertising technique. They offer businesses the ability to easily transport and set up attention-grabbing displays in various locations. With their compact design and easy assembly, roll-up banners optimize space while providing a large and visually appealing canvas for showcasing branding, products, or messages. Their portability, versatility, and reusability make them a cost-effective choice for creating impactful advertisements at trade shows, events, retail stores, and more.
Roll-Up Banners By Creative Eye
Creative Eye is a reputable company in Dubai that offers roll-up banner printing services. They specialize in creating high-quality roll-up banners that effectively promote businesses, events, or products. With their expertise in design and printing, Creative Eye ensures vibrant graphics, durable materials, and professional finishes for their roll-up banners. Their services include assistance with artwork design, printing, and assembly, providing a comprehensive solution for portable and eye-catching advertising in Dubai.
Events and More with Roll-Up Banners
Roll-up banners have numerous applications across different industries and settings. In trade shows and exhibitions, they serve as eye-catching displays to attract visitors and promote products or services. They are also commonly used in conferences and seminars to provide information about speakers, schedules, and event highlights. In retail environments, roll-up banners can be employed for in-store promotions, advertising new products, or highlighting special offers. Additionally, roll-up banners find utility in corporate events, such as press conferences or product launches, where they serve as backdrop displays or informational signage. Their portability and ease of setup make them an ideal choice for any event or location requiring impactful visual communication.
Roll up Banners By Creative Eye
Creative Eye offers professional roll-up banner printing services. Our team of experienced designers and printing experts can help bring your vision to life. We use high-quality materials and state-of-the-art printing technology to ensure vibrant colors and sharp graphics. Whether you need roll-up banners for events, trade shows, or promotional campaigns, we can provide you with custom designs that effectively capture your brand's message. With attention to detail and a commitment to customer satisfaction, Creative Eye delivers top-notch roll-up banner printing services that make your business stand out.
Why Choose Creative Eye Adv
Professional Design: We have a team of expert designers who can create custom sign board designs that match your branding and style.
High-Quality Materials: We use only the best materials to ensure that your sign boards are durable and long-lasting.
Timely Delivery: We understand the importance of deadlines and strive to deliver your sign boards on time, every time.
Competitive Prices: We offer cheap pricing for 3d signboards without compromising on quality or design.
Exceptional Customer Service: We prioritize customer satisfaction and provide excellent support throughout the entire process, from design to installation.
Contact Us Today
Are you ready to take your business to the next level with stunning 3D sign boards and office sign boards in Dubai? Contact us today via Whatsapp or email to learn more about our services and get a free quote.