Social media marketing in Dubai is an effective strategy for businesses to reach and engage with their target audience in Dubai. With a population that is highly active on social media, businesses in Dubai can leverage popular social media platforms such as Facebook, Twitter, Instagram, LinkedIn, and YouTube to promote their products or services, build brand awareness, and drive traffic to their websites. 
There are many platforms available that make Social Media Marketing similar to faceboook marketing but it is up to you how smart you choose an online marketing agency and how they choose the platform and use it. Popular communication platforms used for marketing; Facebook, Twitter, Google+, and Linkedin.
These platforms can make a huge difference in your business. Search engines such as Bing and Google have broadened the scope of people's minds. Many people around the world go online to check out a product before buying. In terms of relevant social media platforms like Facebook, Twitter, LinkedIn etc. people use platforms for their own purposes like entertainment, news, updates etc. and these forums have been found as the most attractive platforms.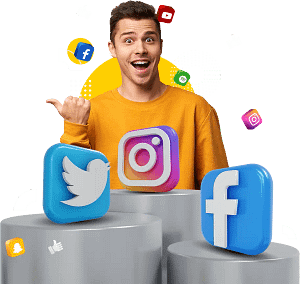 To effectively execute social media marketing in Dubai, businesses need to:
Understand their target audience – identify the demographics, interests, and behaviors of their target audience to create content that resonates with them.
Develop a content strategy – create a content calendar that aligns with the business goals and target audience interests. This includes creating engaging and high-quality content such as images, videos, blogs, and infographics.
Choose the right social media channels – select the social media platforms that align with the business goals and target audience. For example, Instagram is popular for fashion and beauty brands, while LinkedIn is more suited for B2B companies.
Engage with the audience – respond to comments and messages in a timely manner to build a relationship with the audience and increase engagement.
Measure and optimize – track the performance of social media campaigns and adjust the strategy based on the results to ensure maximum impact.
Our Social Media or Facebook methods are Trustworthy.
---
We start by choosing short tail keywords related to your niches and these short tail keywords are very difficult and valuable.

They usually contain keywords that identify pages of high value ads and pages that have spent millions on marketing. This approach to SEO will not only bring traffic but can also leave a positive impact on people's minds. This can turn users into customers for sure.
Strategic keywords are a skill that RedLEOs analysts know. We set keywords and maintain content flow and know which keywords provide the best results.

Once we have found the right website keywords it is time to focus on content strategies and in-depth keyword research that will help increase your presence in search engines. Setting KPIs and objectives for your SEO campaign that will enable us to track our progress and monitor the results of Search Engine Optimization.
Our Social Media Marketing services include
---