Car Wrapping Advertising In Dubai
raees rana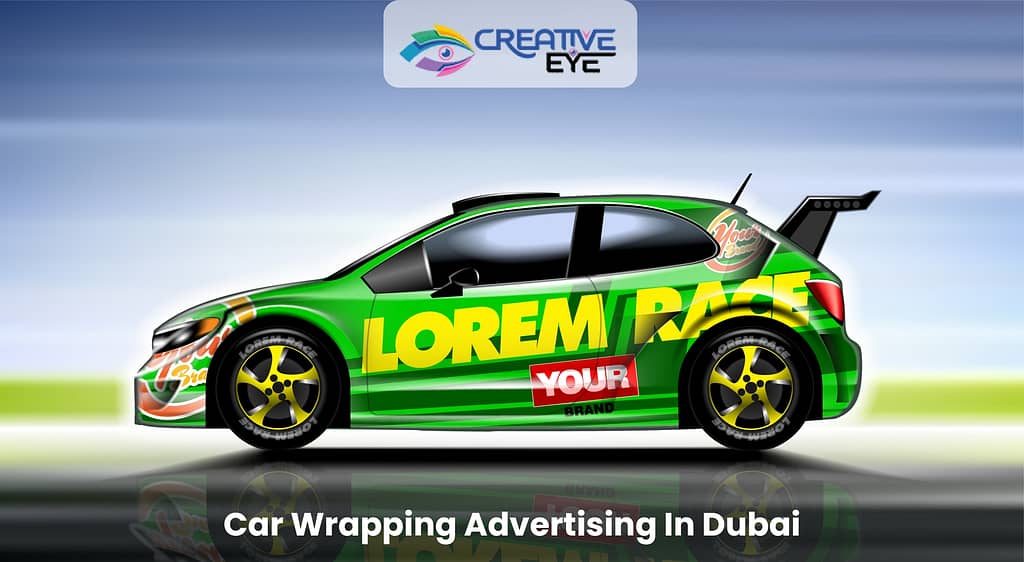 Welcome to the Car wrapping advertising in Dubai, where creativity meets mobility, innovation, and style in the city's bustling streets. Embrace the power of Vehicle Branding as we weave your brand's narrative into a mesmerizing tapestry of colors, and designs. With our expert team of designers and installers, we transform ordinary vehicles into eye-catching mobile billboards. Get ready to redefine advertising with CreativeeyeAdv on wheels and make your mark in the city of dreams.
Best Car Wrapping Advertising In Dubai
At Creative Eye Adv, we strive to understand our client's unique marketing needs and deliver superior results. Our team of experienced professionals works closely with companies to design attractive car wraps that effectively convey your brand message. 
We combine creative design concepts with high-quality materials to create visual Flyer wraps that stand out on the streets of Dubai. As a trusted car wrap advertising provider in Dubai, we focus on customer satisfaction. From concept development to the precise application of vinyl wraps, we handle every aspect of the process with attention to professionalism.
Best Car Wrapping service In Dubai
Our car wrapping service enables businesses to turn their vehicles into moving billboards to attract maximum attention on Dubai's busy streets. This dynamic advertising format enables brands to reach a wide and diverse audience, build brand awareness and leave a lasting impression on potential customers.
Whether you're a local small business or a large corporation, Creative Eye is committed to helping you achieve your marketing goals by making bold statements through car wrap advertising in Dubai. Trust us to provide innovative, bespoke solutions to increase your brand recognition in the competitive Dubai market.
Choose Creative Eye for your car wrap advertising needs in Dubai and let us help you take your brand to new heights. 
Discover the Future of Car Wrap Advertising in Dubai:
The automotive wrap advertising industry in Dubai is about to enter an exciting era full of breakthroughs. At CreativeEyeADV, we envision a future where car wrap advertising is more dynamic, engaging, and impactful than ever before.
Power of Intelligent Technology:
One area of ​​immense potential is the integration of intelligent technology into car wraps. Imagine a vehicle with interactive screens and projection mapping capabilities. This enables real-time updates and dynamic content delivery. These smart packages can display targeted messages, and personalized offers and even interact with nearby pedestrians and devices, creating genuinely immersive brand experiences that leave a lasting impression.
Furthermore, as Dubai moves towards sustainability and embraces intelligent city initiatives, the rise of electric and self-driving vehicles is opening up exciting opportunities for car wrap advertising. 
We look forward to exploring green packaging possibilities such as integrating solar panels and using energy-efficient lighting. By incorporating green elements into our advertising campaigns, we can align with Dubai's vision of a greener future while engaging our audience with an innovative approach.
The future of car wrap advertising in Dubai is full of opportunities and CreativeEyeADV is ready to be at the forefront of these advancements and push the boundaries of creativity and technology. Together, we can create compelling and impactful campaigns that not only resonate with our audiences but also contribute to sustainability. 
How Car Wrapping Advertising Works in Dubai:
CreativeEyeADV car wrap promotion in Dubai is based on a simple but highly effective principle.
We turn your vehicle into an eye-catching moving billboard to promote your brand, products, and services around town. Here is a breakdown of how our car wrap advertising process works in Dubai:
Design and customization: 
We work closely with companies to create compelling custom designs that perfectly match your company's brand identity and marketing goals. Our team integrates logos, graphics, images, and messages into packaging design to create a visually stunning representation of your brand.
Printing and production: 
Once your design is complete, we use high-quality vinyl materials and advanced printing technology to create your car wrap. We aim to deliver vibrant colors and crisp graphics that will capture your attention in downtown Dubai.
Vehicle preparation:
First, thoroughly clean and prep the surface of your vehicle for a safe and flawless application of the car wrap. This meticulous process removes dirt, debris, and paint imperfections to ensure optimal adhesion.
Installation:
Our team of experienced professionals will take care of the installation. Using special techniques with precision and expertise, the vinyl is carefully applied to every contour and curve of your vehicle for a seamless. Our attention to detail ensures a flawless look that best represents your brand. 
Choosing the Right Car Wrapping Advertising Strategy:
Comprehensive advice:
Our team of experts begins with a comprehensive consultation to understand your brand, marketing goals, and target audience. We take the time to understand your specific needs and goals to ensure that our car wrap advertising strategy is the best fit for your business.
Customized Design Solutions:
With our extensive experience in car wrap advertising, we offer bespoke design solutions that match your brand identity and message. Our talented designers Business Cards Printing work closely with you to create compelling, attention-grabbing designs that reflect your brand's personality with your target audience.
Strategic Placement:
We understand the importance of strategic placement to maximize the visibility and effectiveness of car wrap ads. Our team evaluates various factors such as high-traffic areas, and target audiences to ensure your wrapping vehicles get maximum exposure and reach the right audience at the right time.
High-Quality Materials and Printing:
At CreativeEyeADV, we care about quality. We use high-quality vinyl materials and use advanced printing techniques to ensure vibrant colors, crisp graphics, and durability. We strive for excellence and ensure that your car wrap promotions are visually appealing.
Professional Installation: 
Our experienced professionals have the expertise and precision to install your car wraps to perfection. Our meticulous attention to detail ensures that the film adheres seamlessly to your vehicle's Branding surface for a professional, eye-catching finish.
Performance Evaluation:
It is important to track the performance of car wrap advertising campaigns. We provide comprehensive performance analytics, including metrics such as brand visibility, and audience engagement, over the life of your campaign. This data allows us to make informed adjustments to optimize our advertising strategy and achieve better results. 
Final Words:
Car wrapping Advertising In Dubai offers a great opportunity for businesses to make an eye-catching impression on the city streets. Brands can turn their vehicles into stunning mobile advertising billboards with the creativity of CreativeEyeAdv, a leading provider of car wrapping services in Dubai.
Our team of experienced professionals harnesses the power of innovative design and cutting-edge technology to create visually stunning wraps that stand out from the crowd. With excellence and attention to detail, we strive to ensure that each car wrap is a unique work of art, delivering an unforgettable brand experience.
Trust CreativeEyeAdv to power your advertising efforts in Dubai and create a lasting impact that resonates with your target audience.