Van Advertising In Dubai
raees rana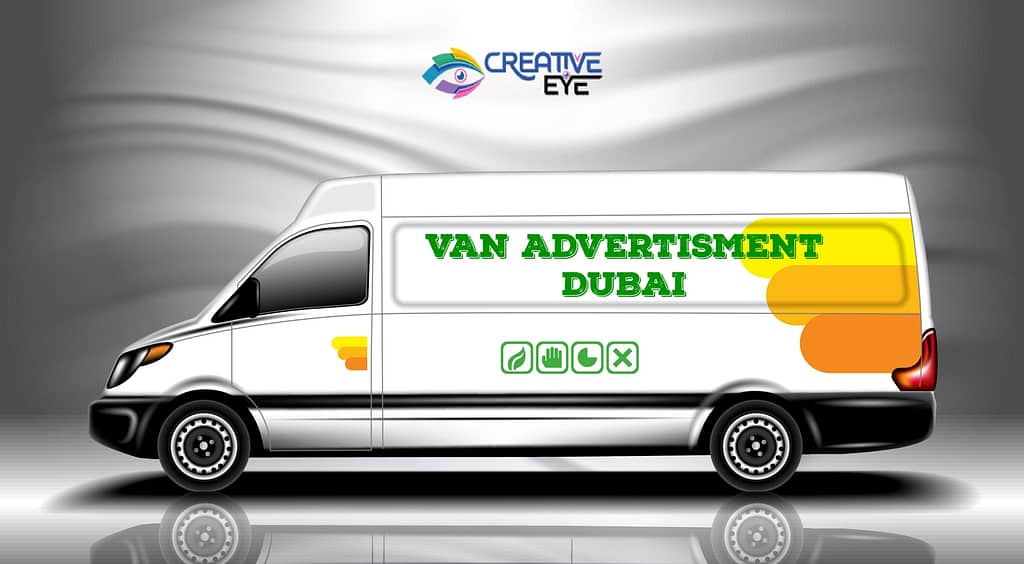 Van advertising is an innovative and effective marketing strategy that is gaining popularity in Dubai, one of the fastest-growing economic hubs in the world. With its dynamic and bustling cityscape, Dubai offers businesses a unique opportunity to reach targeted audiences through eye-catching mobile advertising.
Van Ads is a van turned into a mobile billboard, enabling businesses to showcase their products and services. These vans are deliberately driven through high-traffic areas to attract maximum attention and grab the attention of pedestrians, and commuters.
CreativeEyeAdv is the name that stands out when it comes to trusted creative van advertising services in Dubai. With outdoor advertising Vans expertise and a dedicated team of professionals. We provide comprehensive solutions for companies looking to make a powerful impact in their target market.
Ours specializes in designing engaging van ads that effectively convey your brand message and increase brand awareness. Our team of creative designers and marketers work closely with our clients to understand their goals.
Additionally, CreativeEyeAdv understands the importance of targeting specific audiences. They analyze market trends, demographics, and consumer behavior and tailor Van's advertising campaigns to reach the desired audience effectively. By integrating innovative design, engaging content, and strategic placement, We help businesses in Dubai to gain visibility. 
Benefits of Van Advertising
Van advertising is a powerful and effective way to promote your brand or message in today's fast-paced world. Van ads, which can reach a large number of viewers while on the move, offer many benefits that have a significant impact on a company's marketing activities.
By turning an ordinary van into an eye-catching moving billboard, businesses can harness the power of outdoor advertising Vans to increase brand awareness. A well-known provider of van advertising services in Dubai is CreativeEyeAdV, a leading advertising Vans agency known for its innovation.
CreativeEyeAdV is a well-known advertising agency based in Dubai that specializes in providing luxury van advertising services. We leverage its outdoor advertising expertise to help companies effectively communicate their message through attractive van designs. Our team of experienced professionals understands the importance of grabbing attention in the crowded advertising industry and excels at creating visually stunning van graphics that capture the viewer's attention. Our team has a deep understanding of marketing strategy and consumer behavior, ensuring each van ad is strategically designed to maximize brand exposure and engagement.  
Types of Van Advertising
Van advertising is a common form of outdoor advertising that uses the side, rear, or interior of a van to display promotional messages. This mobile advertising method offers a unique and dynamic way to reach a wide audience while the van travels across different locations, capturing attention.
There are different types of van advertising techniques that businesses can use to effectively showcase their products, services, and messages. In this article, we will discuss some of the most popular ways to advertise your van and the benefits of getting potential customers' attention. Van advertising is a versatile and effective advertising medium, whether full wrap, partial wrap, or in Vehicle Branding display. 
Creative Ideas for Van Advertising
In today's fast-paced world, businesses are constantly looking for innovative and eye-catching ways to advertise their products and services. An effective advertising strategy that is gaining popularity is van advertising. By turning an ordinary van into a moving billboard, businesses can grab the attention of a wide audience while on the go.
Creative and attention-grabbing ideas are essential to getting the most out of your carrier advertising. This article explores some exciting and unique concepts that can help businesses maximize the potential of their van advertising campaigns. From bold and colorful designs to interactive displays, these creative ideas are sure to leave a lasting impression on the viewer. 
Dive into the imaginative world of van advertising and explore the possibilities of this powerful marketing tool.
Tips for Maximizing ROI with Van Advertising
When it comes to advertising, companies are constantly looking for innovative and effective ways to reach their target audience. One method that is gaining popularity is the ad ban. This form of advertising Vans turns into mobile billboards, allowing businesses to present their brands and messages on the go. To maximize your return on investment (ROI) when promoting your van, it's important to implement certain strategies and techniques.
In this article, we'll look at some valuable tips to help businesses get the most out of their van advertising campaigns. In the competitive downtown area of ​​Dubai, businesses are always looking for unique advertising Vans solutions. CreativeEyeAdv is a renowned advertising agency specializing in providing superior van advertising services in Dubai. With years of experience and a deep understanding of the local market. We provide innovative and creative solutions to help companies maximize brand exposure through van advertising.
Whether you're a small business looking to expand your reach or an established company looking to increase your brand presence. We have the expertise and resources to create engaging and eye-catching van ad campaigns. Our attention to detail, professionalism, and commitment to customer satisfaction has earned us a reputation as a trusted van advertising partner in Dubai.  
Best Practices for Van Advertising
Van ads are an effective and eye-catching way to get your brand and message across to a wide audience. Combining the mobility of vehicles with the visibility of outdoor advertising is an effective marketing strategy. To maximize the potential of van advertising, businesses should consider certain best practices. Following these guidelines will ensure your van ads are engaging, memorable, and reach your target audience.
Our team of talented designers and marketing professionals work closely with our clients to conceive. Consider factors such as brand identity, target audience, and clarity of message to create ads that leave a lasting impression on your audience.
Final Words: 
In summary, van advertising in Dubai has become an effective and innovative marketing strategy, capturing the attention of a wide audience on the move. This mobile form of advertising Vans has proven very effective, allowing you to reach potential customers in different parts of the city.
CreativeeyeAdv is a leading provider of van advertising services in Dubai. With his expertise in this field, he has successfully executed numerous creative and engaging campaigns, using the power of van branding to effectively convey his customer's message. Their team of experts combines strategic planning. By partnering with Us on van advertising services in Dubai, businesses can tap into the immense potential of this dynamic marketing medium. Creativeeyeadv's expertise and creative approach help brands differentiate themselves from their competitors, drive customer loyalty and effectively achieve their marketing goals.