Rollup Banner and Digital Printing In UAE, Abu Dhabi, Dubai 2023
raees rana
The process of printing digital images directly to the different types of media substrates is
Digital Printing
In Simple Words, it is the process of making stunning designs on a computer and getting its print by just giving a print command to the Digital Printer.
Digital Printing is the fastest and the most economical printing method as compared to Offset printing. There is no need for printing plates, unlike offset printing.
In Digital Printing, digital files will send to the Digital Printing Press and the print will be made on your desired substrates like paper, cloth, Cardstock, etc.
Top Digital Printing Company in U.A.E.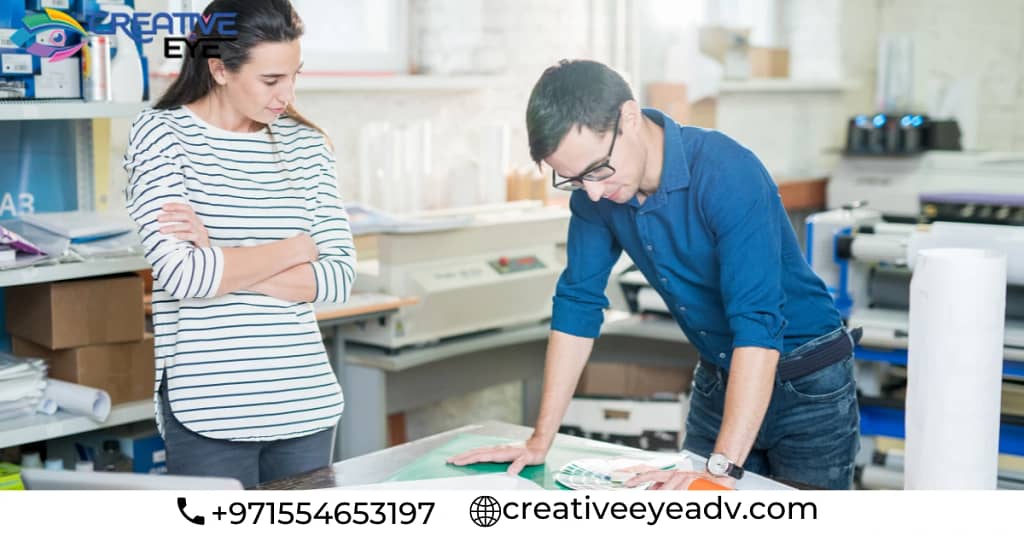 At Creative Eye, we deal in all kinds of Digital Printing Services. Whether it is ordinary Laser printing or large format printing we make a print that admires you.
Creative Eye is one of the Leading Printing Company in Dubai that is working for more than a decade and giving their best to their Valuable Clients.
Creative Eye set a record in the printing industry of Dubai by facilitating our Valuable customers by providing Digital Printing Solutions and by fulfilling their requirements. The ground that makes Creative Eye the Leading one in Digital Printing Company in Dubai is the wide range of printing equipment and the creative mind of our designers. Creative Eye proves itself in a way where we offer integrated dealing, fine Quality, and Digital printing Services with the best price range.
Being a fast-growing Digital Printing Company in the U.A.E we deal in all kinds of Printing Services that include your business advertisement to the Printing of your Joyful moment accessory like Gifts, Gift Bags, Cards, Floors, Walls, etc.
At Creative Eye, We facilitate our customers by giving Digital Printing Services with High Quality work and by meeting deadlines. Because of our experience in the field, we stick to different budget needs every time, and we discover a lot of benefits that gave to our customers by providing Digital Printing Services. As part of our efforts to deliver Digital Printing Services with excellent results, we use state-of-the-art equipment and technology to ensure the highest quality of each product. In addition, we use a strict Quality Assurance process to ensure that our services meet your needs, as well as the close working relationships that allow us to discover and apply your creative ideas.
We are offering a complete lineup of Digital Printing Services which include Rollup Banners Printing, Flag Printing, and Canvas Printing, Wooden Backdrop, Vinyl Stickers, Frosted Stickers, Dance Floor Stickers Printing, Backlit Box, Cutout Standees, Vehicle Branding, Flex Signboards Printing, 3D Signboards Printing and printing of all kind of Signage.
Rollup Banners Printing
Rollup Banner is ideal for those who can quickly shift from one place to another in a quick and easy manner. We provide a Rollup Banner that is made out of tough material with a complimentary Bag. While placing an order, the Customer always keeps in mind the final product's quality and the design's finishing. Creative Eye never compromises the Quality of its Rollup Banner. Weather The Rollup Banner Stand Size is high or the Rollup Banner size is low, Creative Eye always gave its best while doing Rollup Banner Printing. If you don't have the design or idea for your Rollup Stand Banner our designers will do it for you, they convert your imagination to reality by printing Rollup Banner Stands with graceful designs on them.
In order to provide premium Roller Banner for our customers, creative Eye has invested a lot to get High Technology equipment that provides high-quality printing and a fast turnaround while printing Rollup Banner. Creative Eye prints the Rollup Banners on material that is made of environment-friendly products and that can be disposed of easily. If you have any of the query related to the rollup banners visit below to get the Rollup Banner Mockup and Rollup Banner Template. Creative Eye will produce the exact result through their Digital Printing services that meet your requirements within the decided time frame and reasonable Rollup Banner Stand price.
We offer targeted, custom-made Digital Printing Services for all your designs and graphics and by providing a wide range of materials that can be customized as per your need. The main hurdle that is faced by clients is to find the best company in the area where they locate, they always try to find a Digital Printing Shop near me or Printing Services near me now it's not going to be a Big Deal, they just have to write a Digital Printing Near me or Printing Services Near me on Google and they will easily reach us. To reach Creative Eye and to contact us just search Printing Services near me and get our Digital Printing Services
Whether you need a High-Definition print as your Business marketing material or you require visually attractive Signage for your retail Shop or Business, Creative Eye will produce the exact result through their Digital Printing services that meet your requirements within the decided time frame and reasonable price range. Need to print in Bulk? Or need one. Contact us immediately.