raees rana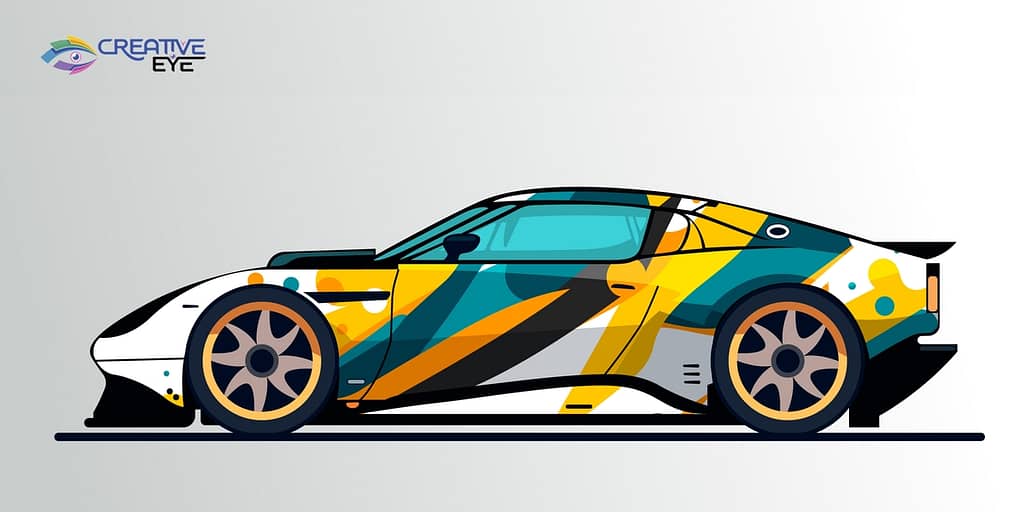 Graphic Vinyl Wrap is a dynamic and innovative solution that allows you to transform the appearance of vehicles, buildings, and other surfaces into eye-catching designs. This creative technique is popular in Dubai due to its ability to create a strong visual impact and leave a lasting impression.
A well-known provider of graphic vinyl wrapping services in Dubai is Creativeeyeadv, a leading company specializing in Digital printing services. We offer many options to meet the diverse needs of businesses, individuals, and organizations in Dubai.
We leverage its expertise in graphic vinyl films to help clients enhance their branding efforts by presenting compelling designs and messages across a variety of surfaces. Whether for corporate branding, advertising campaigns, or artistic expression, Harnessing the power of graphic vinyl and Our expertise, businesses, and individuals in Dubai can effectively communicate their brand message, grab attention and differentiate themselves in a visually competitive environment.
Types of Graphic Vinyl Wrap Materials:
When branding your vehicle in Dubai, choosing the right vinyl graphic seat material is essential to achieve the desired visual impact and durability. Creativeeyeadv is a renowned graphic vinyl film supplier in Dubai, offering a range of high-quality materials to meet the diverse needs of businesses and individuals.
Our team understands that each project requires specific properties of vinyl sheet material. We have a wide range of options including cast vinyl, calendered vinyl, and specialty vinyl, each with its own properties and benefits. Cast vinyl is known for its conformability and durability, making it an ideal choice for complex vehicle curves and long-term branding. Calendared records, on the other hand, are cheaper and better for short-term promotions. We offer special vinyl options for optimal performance for specialized applications such as textured surfaces and extreme weather conditions.
Our comprehensive graphic vinyl packaging and commitment to superior results empower businesses and individuals in Dubai to confidently build brand awareness and leave a lasting impression across the city.
Prettiness of Vehicles with Graphic Vinyl Wrap:
Graphic vinyl has revolutionized the way vehicles are transformed into stunning works of art. Through the application of vibrant colors, intricate designs, and interesting patterns, Flyer Printing enhances the aesthetics of your vehicle and makes it stand out on the road. This revolutionary technology allows individuals and businesses to unleash their creativity and personalize their cars with unique, eye-catching aesthetics.
Our team of experienced professionals works closely with the client to understand the client's vision and create custom graphics on his vinyl wraps that reflect the client's personality and brand identity. increase. Our attention to detail and dedication to quality ensures that every vehicle is a captivating spectacle that draws admiration from its surroundings.
Whether you want to personalize your vehicle or upgrade your own, Creativeeyeadv's graphic vinyl wrap services in Dubai offer a great way to enhance your vehicle's beauty and visual appeal. With its expertise and passion for creativity, Our team helps clients make a statement, grab attention and leave a lasting impression on the streets of Dubai. 
Corporate Branding Graphic Vinyl Wrap:
In the world of marketing and branding, strong visual impact is essential for companies to differentiate themselves from their competitors. Graphic vinyl wraps offer an innovative solution to corporate branding, turning vehicles, buildings, and other surfaces into powerful marketing tools. We provide Vinyl wrapping services in Dubai.
Our leverages its expertise in large-scale printing Press services to help companies increase brand awareness and recognition through attractive, professionally designed graphic vinyl packaging. Using the latest technology and working closely with our clients, We ensure that each definitive record follows the company's brand guidelines and effectively conveys the message to the target audience.
Creativeeyeadv's graphic vinyl wrap services in Dubai offer creative and impactful ways to enhance your company's branding efforts and make a lasting impression on your customers, whether it's for vehicles, window displays, or trade show displays. Offers.
Unique Graphic Vinyl Wrap Designs:
Realize your vehicle's potential with a unique graphic vinyl wrap design that grabs attention and makes a statement. In Dubai, this innovative technology is gaining popularity due to its ability to transform vehicles into attention-grabbing works of art. Your trusted supplier of graphic vinyl wraps in Dubai is a trusted company that specializes in creating great designs. 
With its expertise and creativity, We offer a wide range of unique graphic vinyl wrap designs for different tastes and preferences. From sophisticated minimalist styles to bold, vibrant patterns, our team of experienced professionals works closely with our clients to bring their visions to life.
Thanks to Our commitment to quality and attention to detail, you can trust us to deliver exceptional graphic vinyl wrap designs that will set your vehicle apart from the rest on the streets of Dubai.
Vehicle Paint with Graphic Vinyl Wrap:
Creativeeyeadv in Dubai offers superior graphic vinyl wrap services that offer innovative solutions for vehicle refinishing. As an alternative to traditional painting methods, graphic vinyl wraps can completely change the look of your vehicle without altering the original paint finish. Whether you want vibrant colors, unique designs, or an elegant matte finish, Our team of experts will bring your vision to life.
Our attention to detail and commitment to quality ensures a seamless application of our graphic vinyl wrap that enhances and protects your vehicle's paintwork. Our experienced technicians use high-quality materials, including durable vinyl sheets, to ensure long-lasting results that can withstand Dubai's harsh weather conditions.
With Our services and expertise in graphic vinyl wraps, you can confidently modify your vehicle's paintwork and turn it into a stunning work of art that reflects your personality and style. Our commitment to customer satisfaction and dedication to delivering superior results has made us a trusted graphic vinyl wrapping service provider in Dubai.
Conclusion:
In summary, graphic vinyl wraps have become a popular choice in Dubai for turning vehicles and surfaces into mesmerizing works of art. Its ability to showcase artistic expression, enhance corporate branding, and promote business makes it a valuable tool for both individuals and organizations.
By choosing Creativeeyeadv for its graphic vinyl wrapping services, individuals and businesses in Dubai can benefit from its professionalism, attention to detail, and commitment to customer satisfaction. Our ability to create custom designs and deliver superior results has made the company a trusted partner for all of your graphic vinyl film needs.
Harness the power of graphic vinyl wraps in Dubai and use Our services to enhance your branding efforts, express your creativity, and help you make statements that grab attention and leave a lasting impression.